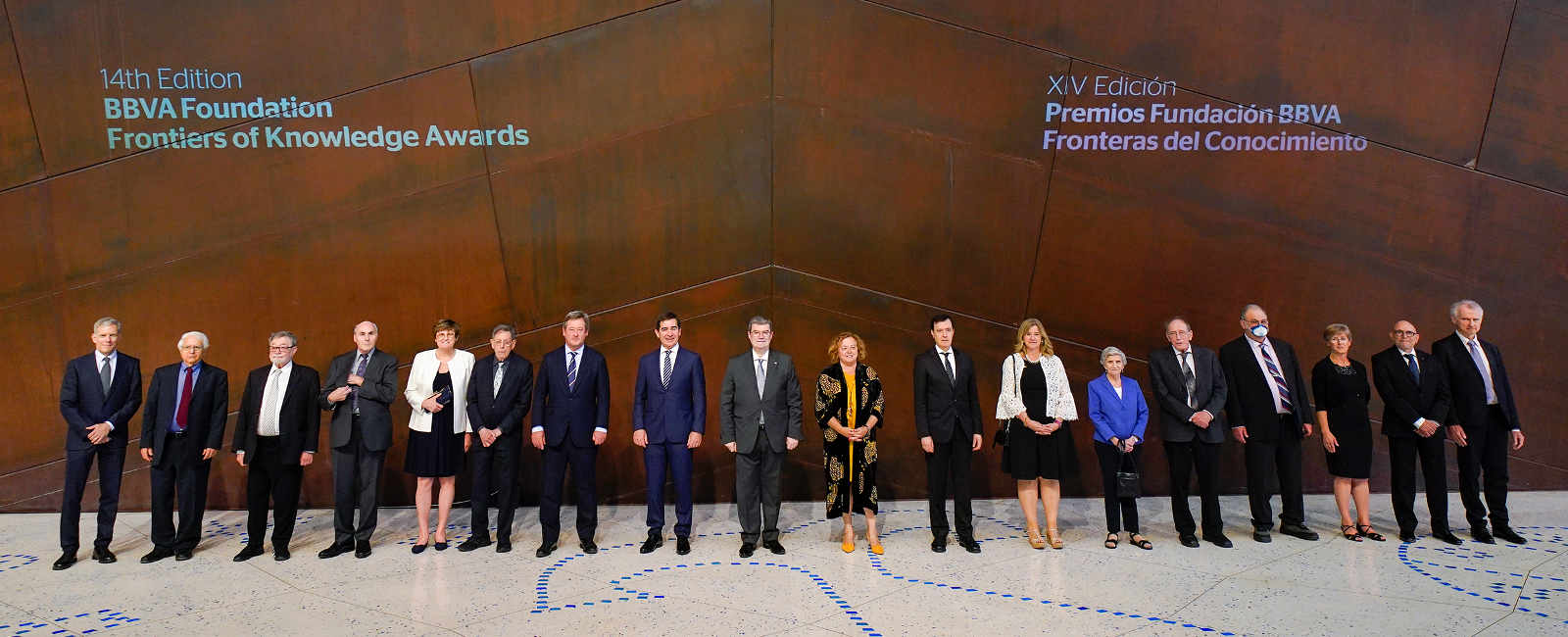 The BBVA Foundation pays tribute to laureates in the 14th edition of its Frontiers of Knowledge Awards with a gala concert in the Euskalduna Conference Centre in Bilbao
This evening the Euskalduna Conference Centre played host to the gala concert of the 14th BBVA Foundation Frontiers of Knowledge Awards, a prelude to the formal ceremony that will take place tomorrow at 19:30 in the same venue. This is the fourth edition to be held in Bilbao, now the permanent home of the ceremony and concert of this family of awards, which position the Bizkaia capital as the global capital of knowledge. Co-chairing the musical gala in honor of the fourteen awardees were the President of the BBVA Foundation, Carlos Torres Vila, and the President of the Spanish National Research Council (CSIC), Rosa Menéndez. Also present was the Mayor of Bilbao, Juan Mari Aburto.
The laureates in the 14th Frontiers Awards are Charles Fefferman (Princeton University) and Jean-François Le Gall (Université Paris-Saclay) in Basic Sciences; Katalin Karikó and Drew Weissman (both University of Pennsylvania) and Robert S. Langer (Massachusetts Institute of Technology) in Biology and Biomedicine; Judea Pearl (University of California, Los Angeles) in Information and Communication Technologies; Lenore Fahrig (Carleton University), Simon Asher Levin (Princeton University) and Steward T. A. Pickett (Cary Institute of Ecosystem Studies) in Ecology and Conservation Biology; Ellen Mosley-Thompson and Lonnie G. Thompson (both of The Ohio State University) in Climate Change; Matthew O. Jackson (Stanford University) in Economics, Finance and Management; Mark Granovetter (Stanford University) in Humanities and Social Sciences (devoted to the Social Sciences on this occasion); and American Philip Glass in Music and Opera.
The evening's program was performed by the Basque National Orchestra, now the main partner orchestra for this event, with conductor Robert Treviño at the helm, and featured as soloist the French violinist Renaud Capuçon. Opening the concert was Concerto for Violin and Orchestra No. 1 by Philip Glass, followed by An Alpine Symphony, the last of Richard Strauss's great tone poems, and considered his most masterful piece of orchestration.
The Concerto for Violin and Orchestra No. 1, commissioned by the American Composers Orchestra, had its premiere in New York City in 1987. Glass's first large-scale venture into non-theatrical orchestral composition, we can hear in it the Buddhist teachings the composer absorbed during his time in France and India. Thus the end of the concerto is prefigured in the opening of the first movement (which reappears as a coda at the close of the third) in what is an analogy of life itself: just as death is tacitly present at the moment of birth, so it is in art, which unfolds in time yet is a single moment. The solo violin, Glass explains, "becomes more and more the alter ego of the composer. And the listener identifies with it, too, as the instrument experiences happy moments and sad moments until there is a triumphal end…, a narrative mechanism in which the violin has a kind of identification with the story…"
An Alpine Symphony evokes the passion for wild nature of the Bavarian-born composer, whose life-changing experience as an adolescent when climbing the Heimgarten peak resonates throughout this tone poem of his mature years, when he was already a successful composer. The piece can be approached as a musical representation of a twenty-four hour hike through the Alps, with an orchestration that, documentary style, invites us to relive past experiences, or else, as the program notes suggest, "we can go a step further and, paraphrasing Walter Benjamin, approach it as a means to become one with Mother Nature, contemplatively and mystically, our eyes set on that mighty peak that is our own selves in the face of challenges, the mountain that is life and our passage through it, with all our lights and shadows."
Philip Glass, a unique style appealing to audiences of all generations
"Philip Glass has embraced different cultural traditions from all over the world, forging a unique and individual style while pursuing his own path with courage and conviction," in the words of the committee granting him the Frontiers of Knowledge Award in Music and Opera. A determined stance which has made him "an international figure," the citation continues, "appealing to audiences of all generations."
The composer himself admits that what kept him going through his long and difficult beginnings was the ambition to "find a different language." It was what he now describes as the huge effort put in between his twenties and his thirties that led him to his own distinctive voice. "It was a language based firstly on contemporary music as I understood it, but also on my own particular way of applying that language. I was also very interested in theater and dance. What I was looking for was a musical language that established a relationship between movement, sound and image."
Glass's novel way of composing did not initially find favor with the public, and it was some time before he got round to writing his first opera. Not until 1976, with Einstein on the Beach, which met with huge acclaim despite breaking every rule about what an opera was supposed to be, with no plot, a protagonist who barely makes an appearance, and the barest number of players. Then would come Satyagraha (1979), based on the life of Gandhi, and Akhnaten (1983) on the Egyptian pharaoh, completing an operatic trio devoted to three men (the man of science, the man of religion, the man of politics) who, each in their own way, managed to change the thinking of their times "not by force of arms, but through the power of ideas."
Philip Glass is the author of an extensive catalog spanning multiple genres and every type of musical ensemble. The list includes 26 operas, large and small, notably the aforementioned Einstein on the Beach (1976), Satyagraha (1979), Akhnaten (1983) and The Voyage (1992), commissioned by the New York Metropolitan Opera to commemorate the fifth centenary of Christopher Columbus's arrival in the Americas. He has also written fourteen symphonies, thirteen concertos, nine string quartets and works for solo instruments like the piano or organ.
The Basque National Orchestra, main partner ensemble
The Basque National Orchestra, now principal partner orchestra of the Frontiers of Knowledge Awards, continues to strengthen its association with the BBVA Foundation. Both organizations share an eagerness to undertake ambitious projects, like this gala concert in Bilbao in honor of laureates, or the Tesela initiative: a broad mosaic of contemporary creation of Basque inspiration, which has made its mark at cultural gatherings like the Venice Biennale.
One of Spain's foremost symphonic ensembles, with a growing international presence, the Orchestra has undertaken some twenty tours as ambassadors of Basque culture. Its activity is followed by thousands of people through its on-site concerts and diverse digital media. The Orchestra works to an established, carefully structured program of four permanent symphonic seasons at its venues in Bilbao (Euskalduna Conference Centre), Vitoria (Teatro Principal), San Sebastian (Kursaal) and Pamplona (Baluarte), which it combines with chamber music and children's concert series, and a busy recording schedule.
A concert with special meaning for Robert Treviño
Robert Treviño is the Chief Conductor of the Basque National Orchestra. Through his enthusiastic involvement in new ideas and projects, Treviño is working to develop the ensemble artistically and raise its international profile.
For Treviño tonight's was a very special concert: "Philip Glass is not just an icon of American music, he is also a composer whose music I have conducted and who I have worked with on world premiers like that of his cello concerto. Since I was ten years old, he has stood for me for a profoundly American idea, the inventiveness and the immense courage to create something entirely new. He is one of my heroes."
Renaud Capuçon
Renaud Capuçon, who tonight took the solo part in Philip Glass's Concerto for Violin and Orchestra No. 1., studied at the Conservatoire National Supérieur de Musique et de Danse de Paris. In 1997 he was invited by Claudio Abbado to become concertmaster of the Gustav Mahler Jugendorchester, where he worked with conductors including Boulez, Ozawa and Welser-Möst, as well as Abbado himself.
He performs with leading orchestras such as the Berliner Philharmoniker, Boston Symphony Orchestra, Orchestra Filarmonica della Scala, London Symphony Orchestra, New York Philharmonic, Wiener Philharmoniker, Orchestre de Paris and Orchestre National de France. His many conductor relationships include Daniel Barenboim, Semyon Bychkov, Stéphane Denève, Christoph von Dohnányi, Gustavo Dudamel, Christoph Eschenbach, Bernard Haitink, Daniel Harding, Paavo Järvi, Yannick Nézet-Seguin, Lahav Shani, and Jaap van Zweden.
Artistic Director of the Festival de Pâques d'Aix-en-Provence, Sommets Musicaux de Gstaad, Orchestre de Chambre de Lausanne and the International Menuhin Music Academy, he is also an artistic partner of Camerata Salzburg. In June 2011 he was appointed Chevalier dans l'Ordre National du Mérite and in March 2016 Chevalier de la Légion d'honneur by the French Government.
He plays a violin made in 1737 by Guarneri del Gesù, which for 50 years belonged to Isaac Stern.