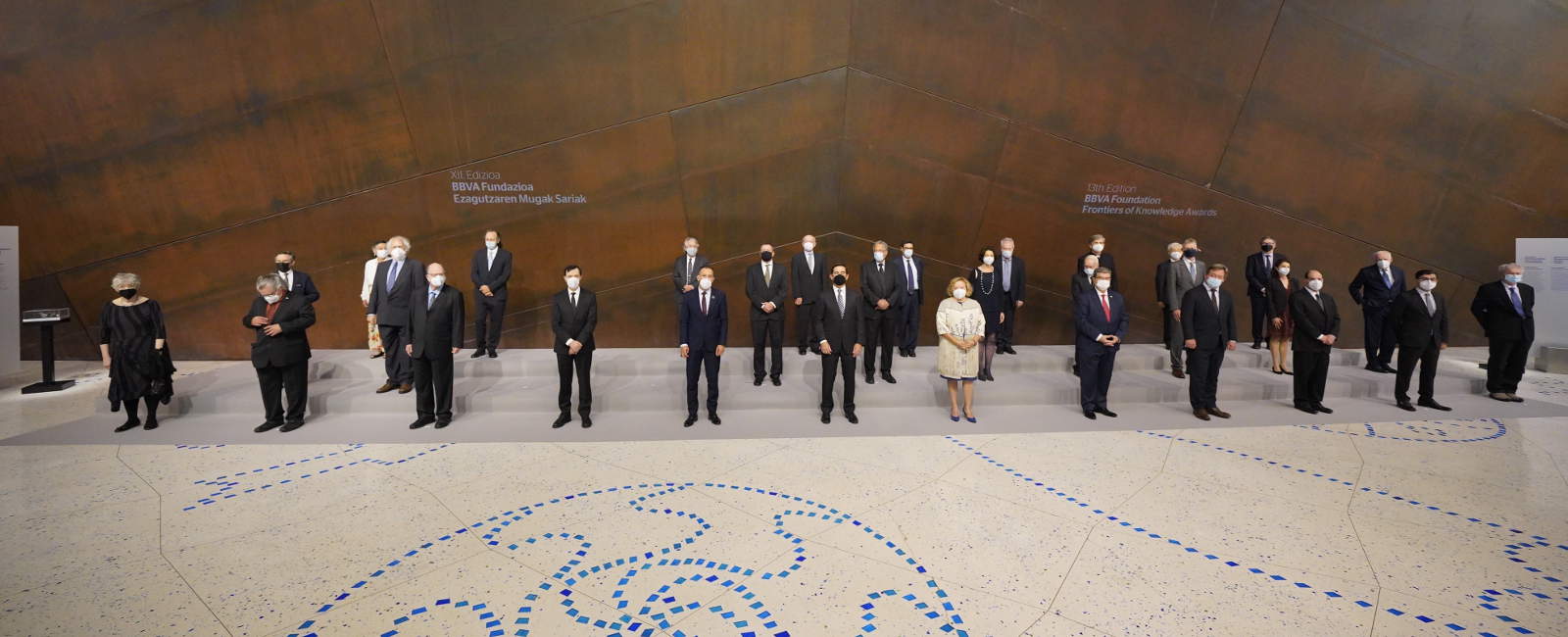 Bilbao's Euskalduna Conference Centre hosts the Gala Concert of the 12th and 13th BBVA Foundation Frontiers of Knowledge Awards
The Euskalduna Conference Centre and Concert Hall has played host to the Gala Concert of the 12th and 13th BBVA Foundation Frontiers of Knowledge Awards, a prelude to the formal ceremony that took place the following evening in the same venue. This has been the second time that the Bizkaia capital has welcomed the Frontiers Awards events, following the Foundation's decision in 2019 to make Bilbao their permanent home, and the postponement of the 2020 events due to the public health emergency caused by the COVID-19 pandemic. Bilbao has thus celebrated a double ceremony recognizing the achievements of the 35 laureates in the 12th and 13th editions of the Frontiers Awards, to whom this concert has been dedicated.
Awardees in the 12th Frontiers Awards were Charles Bennett, Gilles Brassard and Peter Shor in Basic Sciences; Michael Hall and David Sabatini in Biology and Biomedicine; Isabelle Guyon, Bernhard Schölkopf and Vladimir Vapnik in Information and Communication Technologies; Carlos Duarte, Terence Hughes and Daniel Pauly in Ecology and Conservation Biology; Kerry Emanuel in Climate Change; Philippe Aghion and Peter Howitt in Economics, Finance and Management; Susan Fiske and Shelley Taylor in Humanities and Social Sciences, with the present edition corresponding to the Social Sciences; and Arvo Pärt, in Music and Opera. The awards in the 13th edition went to Paul Alivisatos and Michael Grätzel, in Basic Sciences; David Julius and Ardem Patapoutian in Biology and Biomedicine; John Hennessy and David Patterson in Information and Communication Technologies; Sandra Díaz, Sandra Lavorel and Mark Westoby in Ecology and Conservation Biology; Neil Adger, Ian Burton and Karen O'Brien in Climate Change; Ben Bernanke, Mark Gertler, Nobuhiro Kiyotaki and John Moore in Economics, Finance and Management; Gerald Holton in Humanities and Social Sciences, devoted to the Humanities on this occasion; and Peter Eötvös in Music and Opera.
The evening's program was performed by the Basque National Orchestra, now the main partner orchestra for this event, led by Maestro Robert Treviño, who made his debut as Chief Conductor of the Basque ensemble precisely at the gala concert of the 11th Frontiers of Knowledge Awards. Featuring as soloists were the Bilbao-born pianist Joaquín Achúcarro and Venezuelan violinist Giovanni Guzzo. The program opened with two pieces by the Music and Opera laureates in the editions whose award ceremony took place on the following day: Symphony No. 3 by Arvo Pärt; and Alhambra, Violin Concerto No. 3 by Peter Eötvös. And it will conclude with Ludwig van Beethoven's Piano Concerto No. 4 in G major, op. 58.
Symphony No. 3 sits at the turning point of Pärt's artistic and life story; eight years of near total silence in which the composer underwent a metamorphosis that led him from his disenchantment with the European avant-garde to his rebirth with a new style he would name "tintinnabuli." Triple woodwind, quadruple French horns, trumpets and trombones, tuba, timpani, celesta (taking a key role), tubular bells, marimba, tam-tam and strings interpret a score that is a stirring testimony in sound of his fight to cast off the serial doctrine – which he had come to see as a puerile exercise – and embark on a different journey.
In Alhambra, Violin Concerto No. 3 Eötvös gives full rein to his conception of music as a vehicle for the emotions. "The fountains of the palace, its dimension, the surrounding mountains, the amazing sunset of Andalusia – all of this became part of my piece," he remarks of a score that puts music to the Alhambra's impact on a musician of the 21st century, two centuries after the tales of Chateaubriand and Washington Irving, and the Alhambrist compositions of Chapí, Bretón and Monasterio. This work displays Eötvös's taste for expressive intensity and the upper registers of the violin – played by Giovanni Guzzo – a trait he unequivocally shares with Beethoven, author of the work that will close the concert.
In Beethoven's Piano Concerto No. 4 "we will hear two different musics," affirms Álvaro Guibert, musicologist and author of the program notes. "Most of its length is taken up by a wonderful Beethoven piano concerto with all the ingredients we have come to expect: originality, drama, peerless virtuosity, always musical, always expressive… (…) But this work contains moments that are something else, a music that rises above its place in the concerto to rest on an elusive higher plane, where, it seems, what is at stake is not just the satisfaction of musical tastes but the addressing of existential questions. For, as Czerny said, when performing this music, "one cannot but imagine a tragic scene from ancient times."
Arvo Pärt: "This prize is the crowning moment of my musical career"
Born in Paide, Estonia, in 1935, Pärt graduated from the Tallinn conservatoire with a degree in composition in 1963. Initially one of the most radical members of the Soviet avant-garde, in the face of the ideologized musical culture of the Soviet Union, he experimented intensively with the styles and achievements of contemporary Western music. But at the end of the 1960s, he suffered a crisis. Pärt realized that with the complex musical systems of the avant-garde, often impenetrable to the ear, he could not express what he was looking for: absolute simplicity, the same quality he was then rediscovering in the Christian faith. He delved deep into Gregorian chant, the liturgical monody of the medieval era, and the polyphonic music of the beginning of the Modern Age. The fruit of all this exploration was a style based on the core elements of European music: the scale and the triad. Pärt called it "tintinnabuli," taken from a Latin term meaning "little bells," and its sound would come to permeate his works.
In this time of creative crisis and profound transformation, "in which I was searching for my own musical language," Arvo Pärt found in Spain part of the guidance that he sought, as he reveals in his acceptance speech. "Two Spanish artists accompanied and influenced me by giving me a direction during my time of 'silence' – Tomás Luis de Victoria with his music and El Greco with his painting. They gave me the impulses that were decisive for my musical future."
Indeed "Spain has played a much greater role in my life than you could imagine," he goes on. One "intense experience" was the commission received in 1998 from the Canary Islands Music Festival to compose Como cierva sedienta, for soprano and orchestra, his first work based on a Spanish-language text. "This first immersion in the sound of the Spanish language was a great discovery for me. I realized that I felt very connected to the culture behind this language."
Then came Virgencita, "a choral work about the Mother of God, which Víctor García de Gomar programmed in a touching concert last year in Montserrat under the title "From Pain to Hope." Pärt reserves special mention for his "long and productive collaboration and friendship" with Jordi Savall, "who brought to life my two Lullabies with his wife Montserrat, who has sadly passed away, and his daughter Arianna. He then wished for another work from me, which became Da pacem Domine, composed under the sad impression of the terrible terror attack in Madrid in 2004."
Two more recent connections are also recalled: in 2018, his choral work And I Heard a Voice… was premiered in Spain on the occasion of the 800th anniversary of the University of Salamanca. And in autumn that same year, the Arvo Pärt Centre, the work of the Spanish architects Fuensanta Nieto and Enrique Sobejano, opened its doors in the heart of the Laulasmaa forest, near Tallinn, from where the composer recorded his acceptance speech. "As you can see, Spain has never ceased to inspire me. I feel that this prize is the crowning moment of a musical career. But not only that; it also closes a circle that started in the 1960s and that is still part of my artistic thinking today."
Peter Eötvös: composer, conductor, educator
"One of the most important musical voices of our time," is how the committee in the 13th edition of the Frontiers of Knowledge Award in Music and Opera referred to the Hungarian composer Peter Eötvös, born in 1944 in Odorheiu Secuiesc, Transylvania, then part of Hungary and now belonging to Romania.
He sees the Frontiers Award as a moment to reflect "on the life's work that is being recognized." The committee's citation, he remarks in his acceptance speech, "not only highlights my activity as a composer, but also as a conductor and educator. This fact is of great importance to me, since these three facets are continuously inspiring one another, and, for me, constitute an inseparable whole."
The Hungarian maestro is impressed that the Frontiers Awards "elevate composing and scientific research to the same level, because this view is very close to my own thinking as a composer. Composition differs from other artistic genres in that the end result remains hidden until it is converted into sound. Consider: a painter, a sculptor or a writer can see straight away how the material takes shape before their eyes; but the composer has to wait until the orchestra begins rehearsing. Only then is it revealed whether the sound and time structure resemble what he or she had imagined in their inner ear."
Eötvös looks successively to the past, present and future in contemplating his life in music. "I view the history of music as a continuous and unbroken chain. And I see myself as one of its links. My thinking has always been determined by an awareness of the present. I am also part and parcel of the Hungarian musical tradition, stretching from Franz Liszt by way of Béla Bartók to György Ligeti and György Kurtág. And Bartók's works in particular have shaped my musical mother tongue."
The thread connecting today and tomorrow is never stronger than in his operas. "I draw the themes for my operas largely from the works of contemporary writers and playwrights who confront the public with the problems of today. I would like my operas to stand the test of time, so that 100 or 200 years from now they convey something of our age to the audiences of the future. Much in the way that we can still enjoy Monteverdi's operas after 400 years, but they also shed light on the mindset of our own time."
Coloring all of his endeavor is the desire to forge a legacy that gives continuity to tradition in the light of the present. "Music takes us precisely to the time when it was made. Although we may not know who composed it, we know the period from which it comes. I hope that my music can carry the message of the present and deliver it to the future, with all the things of the past it considers of value stowed within its luggage. And because the world changes from one moment to the next, but human feelings stay the same, there is definitely hope that the people of tomorrow will also understand this message."
The Basque National Orchestra, main partner ensemble
The Basque National Orchestra, now principal partner orchestra of the Frontiers of Knowledge Awards, continues to strengthen its association with the BBVA Foundation. Both organizations share an eagerness to undertake ambitious projects, like this gala concert in Bilbao in honor of laureates, or the Tesela initiative: a broad mosaic of contemporary creation of Basque inspiration, which has made its mark at cultural gatherings like the Venice Biennale.
Robert Treviño is the Chief Conductor of the Basque National Orchestra. Through his enthusiastic involvement in new ideas and projects, Treviño is working to develop the ensemble artistically and raise its international profile. Their first tour together throughout Austria and Germany was a significant success, as was their debut at the iconic Théâtre des Champs-Élysées in Paris, and they will shortly embark on a new international outing to the heart of Central European musical life.
Joaquín Achúcarro
Born in Bilbao, his busy concert schedule has taken him to sixty-one countries and venues like the Berliner Philharmonie, Carnegie Hall, Avery Fisher Hall, Het Concertgebouw, the John F. Kennedy Center for the Performing Arts, Musikverein Wien or The Royal Albert Hall, offering recitals and performing as a soloist with the likes of the Berliner Philharmoniker, Chicago Symphony Orchestra, New York Philharmonic, Los Angeles Philharmonic or La Scala Orchestra, as well as every major orchestra in Spain, under more than four hundred conductors, among them Abbado, Chailly, Davis, Mehta, Ozawa, Rattle, Van Zweden and Conlon.
He has recorded with Sony, RCA, BMG, Claves, Ensayo, La Dolce Volta and Etnos, winning awards for his readings of Ravel, Falla, Granados, Brahms, Schumann, Schubert, Chopin, Beethoven, Debussy, Bartók, Rachmaninoff, Scriabin, Turina and Herrmann. Since August 1989 he has held the Joel Estes Tate Chair of Piano at the Southern Methodist University in Dallas, combining his teaching duties there with his many concert engagements. In 2008, a group of people and organizations in Dallas created the Joaquín Achúcarro Foundation "to develop and maintain his artistic and teaching legacy in perpetuity" and help former students at the start of their careers.
Achúcarro was named Artist for Peace by UNESCO in Paris in recognition of his "extraordinary artistic achievement." He is an Accademico ad Honorem of the Accademia Chigiana in Siena (Italy), and in Spain has been distinguished with the Gold Medal of Fine Arts, the National Music Prize and the Grand Cross of Civic Merit, as well as holding honorary membership of the Real Academia de Bellas Artes de San Fernando and an honorary doctorate from the Universidad Autónoma de Madrid (UAM). The International Astronomical Union gave dwarf planet 22191 the name of Achúcarro in tribute to his international career.
Giovanni Guzzo
35-year-old violinist Giovanni Guzzo is rapidly becoming established as one of the most versatile performers of his generation. Born in Venezuela to parents of Italian and Venezuelan descent, he has captivated audiences around the world with his unique and passionate approach. Following his sensational solo debut with the Royal Philharmonic Orchestra in London, critics described him as a "wonderfully magnetic" and "commanding" performer.
A keen chamber musician, Guzzo has worked closely with some of today's leading musicians, including Martha Argerich, Joshua Bell, Martin Fröst, Daniel Hope, Stephen Hough, Kristóf Baráti, Simon Rattle, Magadalena Kožená, Gábor Takács-Nagy, István Várdai, the Takacs Quartet and Maxim Vengerov, to name but a few. His talent has been recognized with numerous awards including Her Majesty Queen Elizabeth II's commendation for Excellence, the Gold Medal at Marlow Music Festival, and the PROMIS Award from the London Symphony Orchestra.¡
As a soloist, he performs with top symphony orchestras in some of the world's most prestigious venues, including London's Wigmore Hall and Zurich's Tonhalle. He is also a regular guest at the Verbier Festival in Switzerland and the Mecklenburg-Vorpommern Festspiele in Germany. Guzzo is principal guest leader of the world famous Budapest Festival Orchestra, and since 2021 has appeared as concertmaster with the celebrated Camerata Salzburg. He plays a 1759 Nicola Gagliano violin, on extended loan from a private benefactor.