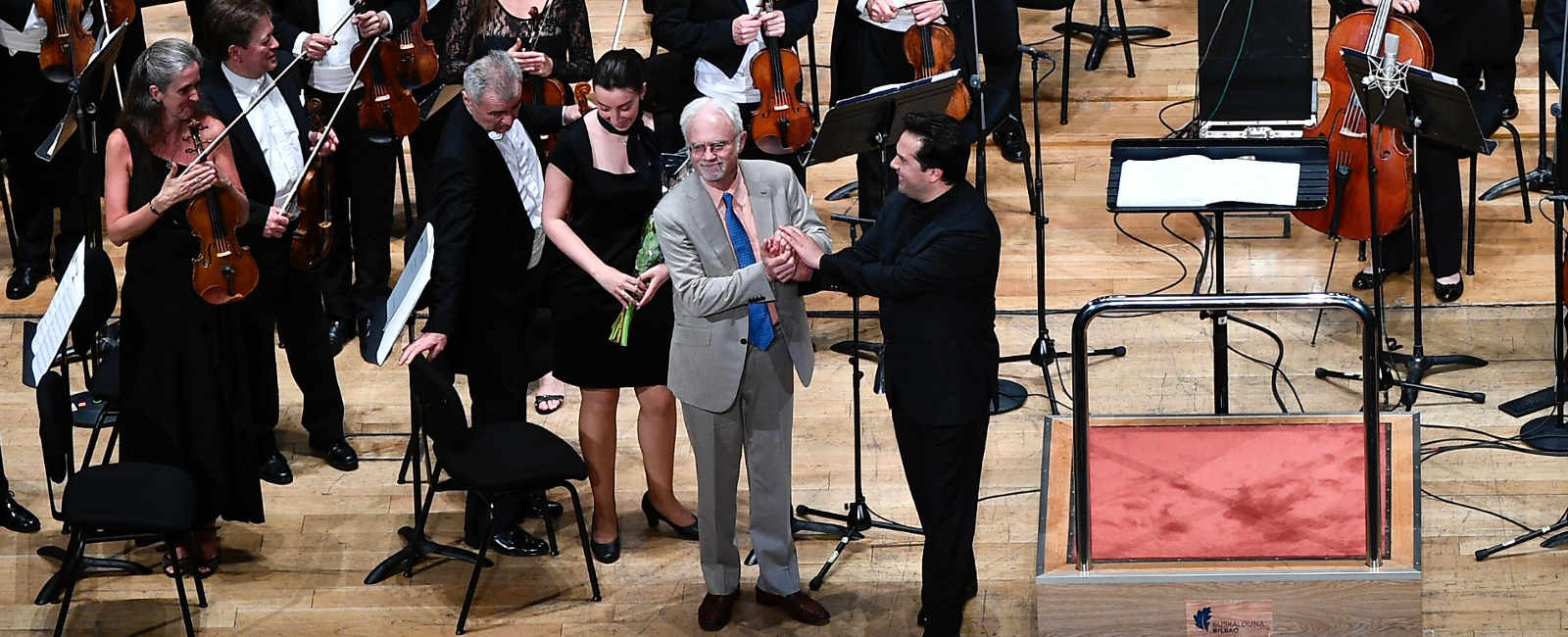 NEWS
The Euskalduna Conference Centre plays host to the Gala Concert of the 11th BBVA Foundation Frontiers of Knowledge Awards
This evening at 19:30, the Euskalduna Conference Centre and Concert Hall has played host to the 11th BBVA Foundation Frontiers of Knowledge Awards Gala Concert, a prelude to the formal ceremony that will take place tomorrow at 19:30 in the same venue. Starting from this edition, the two events marking the presentation of these prestigious international prizes will be sited permanently in Bilbao, a city that represents BBVA's living roots and stands out for its spirit of openness to the global society anchored on knowledge, innovation and culture.
The concert is a tribute to the laureates in this 11th edition of the awards: Charles L. Kane and Eugene Mele in Basic Sciences; Jeffrey I. Gordon in Biology and Biomedicine; Ivan Sutherland in Information and Communication Technologies; Gretchen Cara Daily and Georgina Mace in Ecology and Conservation Biology; Anny Cazenave, John A. Church and Jonathan Gregory in Climate Change; Claudia Goldin in Economics, Finance and Management; John Adams, in Music and Opera; and Noam Chomsky in Humanities and Social Sciences, a category new to the awards this year. The evening's program will be performed by the Basque National Orchestra, now the main partner orchestra for this event, led by American conductor Robert Treviño, who made his debut at the helm of the Basque ensemble at the Gala Concert of the 9th Frontiers of Knowledge Awards.
The program has two parts. The first is devoted to Harmonielehre, written in 1984-1985 by American composer John Adams, this year's awardee in the Music and Opera category. A symphony in all but name, this piece, for the author, marked the end of a deep personal and creative crisis. In it, we perceive the immense importance that he attaches to harmony as a vehicle for conveying emotions. In part two, we will hear Gustav Mahler's Symphony No. 1 in D major, "Titan," which musicologist Álvaro Guibert describes in his program notes as perfectly illustrating one of the composer's hallmarks: "That mixture of the refined and the vulgar, the deep and the frivolous, the orchestra of subtle shades, like a chamber formation, and the orchestra-avalanche, capable of the most frenzied symphonic climaxes."
John Adams or the 'feeling function' of contemporary music
"I felt that the world of contemporary music was becoming increasingly sterile, and composers were increasingly self-absorbed and only writing for each other," explains composer and conductor Adams, reflecting on his art. "At the same time I witnessed the blossoming of the great period of rock music, which spoke to the culture in a simple and passionate language. I wanted to forge a musical language of my own that, while framed in the 'classical' tradition, had a similar energy and power of communication that great American popular music, whether rock or jazz, possesses."
These views have their roots in the wide-ranging musical education that he enjoyed from his earliest years; at home they would switch with ease between a Mozart piano concerto and a Duke Ellington standard. "In the United States we have what I call 'very loose filters' as composers," he remarks. "We grow up listening to all different kinds of genres and I think that is what defines us as a musical culture." At the same time, Adams has been outspoken concerning what he calls the "deification of pop" that dominates today's music scene: "I am aware – he says – that we have in the U.S. a longstanding tendency of anti-intellectualism. So being a serious artist in my country is always a challenge. It's always difficult to be heard above the 'noise' of our mass culture."
Adams receives the BBVA Foundation Frontiers of Knowledge Award in the Music and Opera category for managing to reconnect with a wide audience with no loss of either formal integrity or technical complexity. And he is keenly aware that this quality is a big part of what defines him as an artist: "I think that if I've gained an appreciative audience it's because people 'feel' when they listen to my music. They feel the energy that is in it. They feel the sensuality of the musical sound. And in the case of my operas, they identify with the stories, with the themes and the archetypal imagery that I use in my work."
The search for these universal themes and the transplanting of classical myths to the present day are constants in Adams' operatic and theatrical repertoire. His operas delve deep into contemporary issues and, in doing so, find archetypes that refer us back to the works of the classical period. In Nixon in China, he tells the story of the U.S. President's trip to visit Mao Tse-Tung; in Doctor Atomic, he takes on the building of the first atomic bomb, depicted as a symbol of humanity's potential to destroy itself and the planet; and in On the Transmigration of Souls he attempts an emotional evocation of the events of 9/11. Indeed opera, for him, is "an unusual art form" in that it can address "really large issues," such as "issues of national identity of the deepest psychological complexity, in ways that even the novel or the film can't quite reach." Its duty, therefore, "if it is going to have meaning and continue as an art form, is to deal with the themes of our own time."
This appeal to the deepest part of every listener is a strand that runs through all of the composer's works from oratorios to orchestral pieces; one that fits perfectly with his view of music as the ideal art form to convey feelings and emotions. "I don't even know exactly why it is, but I know that no-one can live without music of one form or another, and I think that what my life as a composer has been about has been restoring the 'feeling function' to contemporary music." An art, he adds, that had become "ossified and petrified by too much intellectual speculation."
The Basque National Orchestra, principal partner orchestra of the Frontiers Awards
The Basque National Orchestra, now principal partner orchestra of the Frontiers of Knowledge Awards, continues to strengthen its association with the BBVA Foundation. Both organizations are eager to undertake ambitious projects, like this Gala Concert in honor of laureates, or the Tesela initiative: a broad mosaic of contemporary creation of Basque inspiration.
With this concert, the Basque National Orchestra brings its season to a triumphant end, and it does so on one of its home stages, that of the Euskalduna Conference Centre and Concert Hall. The orchestra's Music Director Robert Treviño is a celebrated conductor of Gustav Mahler. Through his enthusiastic involvement in new ideas and projects, Treviño is working to develop the ensemble artistically and raise its international profile. In December last year, he took it on a concert tour across Austria and Germany, and in January 2020 will lead it for the first time on the iconic stage of Paris's Théâtre des Champs-Elysées.