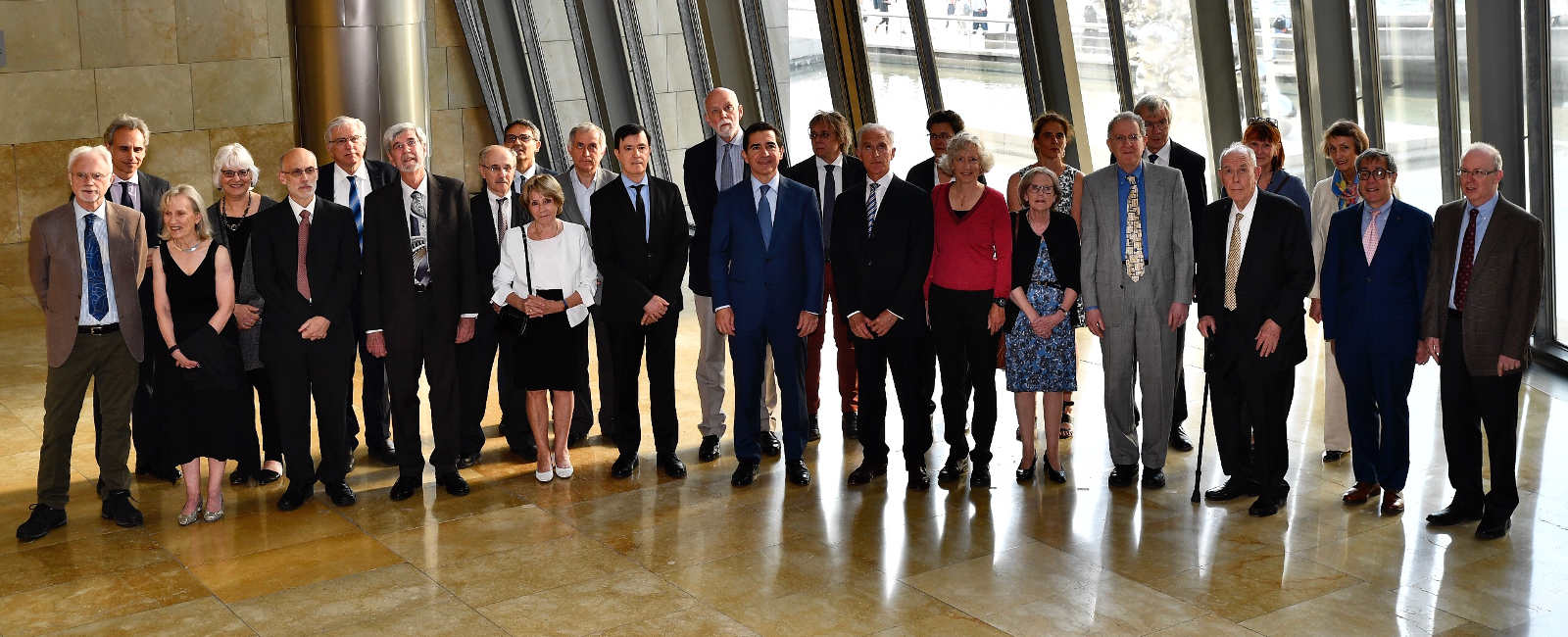 NEWS Frontiers of Knowledge Awards 11th edition
Bilbao welcomes the Frontiers of Knowledge Awards laureates at the Guggenheim Museum
The laureates in the 11th edition of the BBVA Foundation Frontiers of Knowledge Awards are now in Bilbao. The President of the BBVA Foundation, Carlos Torres Vila, the Director General of the Guggenheim Museum Bilbao, Juan Ignacio Vidarte, and the Director of the BBVA Foundation, Rafael Pardo, extended them a welcome to the city at a reception on Sunday 16th in the Guggenheim Museum.
This was just the first of the events leading up to the presentation ceremony of the Foundation of Knowledge Awards, which have changed venue this year to what will be their new home in Bilbao. The award ceremony, held until now in the Madrid headquarters of the BBVA Foundation, will take place on Tuesday, 18 June, in the Bizkaia capital's Euskalduna Conference Centre, which the evening before will host a gala concert in honor of laureates performed by the Basque National Orchestra under conductor Robert Treviño.
"Bilbao represents BBVA's roots, and shares with us a spirit of openness and a global outlook anchored on a strong culture of knowledge, art and innovation. With the siting of the Frontiers Awards events in Bilbao, the city will be host to a celebration of knowledge that features leading world figures in diverse areas of science, technology and the arts," declared the Foundation's President, Carlos Torres Vila.
For decades now, BBVA and its Foundation have participated in the knowledge and cultural ecosystem of the Basque Country in general, and Bilbao in particular, through recurrent partnerships with some of the region's leading institutions. The Foundation has been a Strategic Patron of the Guggenheim Bilbao from the time it opened, and is currently sponsoring the exhibition Jenny Holzer. Thing Indescribable, a comprehensive look back at the career of one of the most important artists of our time.
Laureates in the 11th edition of the Frontiers Awards
This year's BBVA Foundation Frontiers of Knowledge awardees are:
Charles Kane and Eugene Mele in Basic Sciences, "for their discovery of topological insulators, a new class of materials with extraordinary electronic properties that behave as conductors on the surface, but insulators in their interior," in the words of the committee's citation.
Jeffrey Gordon in Biology and Biomedicine, "for his fundamental discovery of the importance of the gut microbial community to human health."
Ivan Sutherland in Information and Communication Technologies, for "pioneering the move from text-based to graphical computer displays."
Gretchen Daily and Georgina Mace in Ecology and Conservation Biology, for "developing tools and policies to combat species loss," based on robust scientific criteria.
Anny Cazenave, John Church and Jonathan Gregory in Climate Change, for "outstanding contributions to detecting, understanding and projecting the response of global and regional sea level to anthropogenic climate change."
Claudia Goldin in Economics, "for her groundbreaking contributions to the historical analysis of the role of women in the economy, and her analysis of the reasons behind gender inequality."
Noam Chomsky in Humanities and Social Sciences, "for his unparalleled contributions to the study of human language."
John Adams in Music and Opera, described as "writing music that is genuinely of our time, and always has been, from the late 20th into the 21st century."